New Records For Bangkok Property Market
The Bangkok property market has achieved new records in 2014 as five condominium projects located in Bangkok CBD offer prices of THB300,000 per SQM according to CBRE Thailand. In fact, the downtown residential market has become a 'low-volume high-value' market with limited supply of new projects being launched.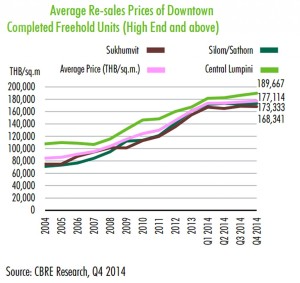 The number of newly launched property projects has increased by 282% between Q3 and Q4 2014 in the Bangkok CBD area and by 13% in the suburban areas.
In fact, and due to the political turmoil last year, the total number of units launched throughout 2014 was down by 37% in downtown and by 29% in midtown/suburban areas as compared to 2013.
Moreover, most of new launches along the MRT/BTS lines were located around the upcoming MRT Purple line as 7,500 units – meaning 58% of all units launched – have been launched in along this line last year.